Odoo, a complete package for business solutions, offers you an advanced Website builder with a unique interface and framework. The multi-purpose open-source Odoo website builder module provides you insight into managing every operation interconnecated with a website and the eCommerce activities. This module's perfect real-time integration facility connects the platform with all other modules. The multi-purpose features of the platform make it easy to handle every operation and requirement and also act as a perfect website builder, eCommerce site, customer portal, HR recruitment portal, job portal, educational portal, and many more aspects.
You can effortlessly create and customize websites for your business, and also the platform exclusively build, manage and design as per the requirements and policies of your business. The exclusive platform offers both front-end and back-end usability. The changes brought in either end will be automatically identified in the other.
Because of the countless advantages and benefits., the trend of business and shopping came towards online and eCommerce platforms. Selling items online with a unique and professional online store is the right decision for a successful business. The eCommerce platform in Odoo allows you to ideally conduct all the online sales operations far better than the traditional way of business operations. The Odoo Website and eCommerce platform are highly recommended among business persons who are looking for a robust Website and eCommerce system. This chapter will discuss all the aspects of the Odoo 15 Website and eCommerce module in detail.
Let us list out the main features of the Odoo Website 15 module:
Using the Odoo Website module, you can create various website forms that will be very useful for analyzing your customers' requirements and queries. It also helps you get a clear view of how to improve your items via receiving your customers' feedback.

It is the right tool to gather customer information.

The user-friendly system allows you to create, configure and design your website with more advanced features and functionalities.

You can simply design your website using the default building blocks. These exclusive building blocks can also be customized based on the needs of your organization or business.

Building blocks can be easily dragged and dropped.

Translate your website into multiple languages effortlessly.

Excellent support to design custom themes in a professional touch

The content of your website can be edited directly from the front end.

Create, edit, and update your text contents in the same manner as in the word processing

The salient tools like keyword suggestions and the meta tag tools will help you to higher your website ranking on search engines, resulting in better traffic on your website.

The multi-website facility and link tracking facilities are also available

Scrutinize leads by Google analytics.

Robust Live chat facility with an exclusive pop up chat window.

Feasible to share websites through social media.

Easily design Odoo templates with the assistance of HTML and bootstrap CSS.

You can design your website layout from the finest one displayed

Multiple themes are available in the Odoo app store, which can easily be changed.

Mobile preview also available

Social media call to action will promote your website to gather your audience and tell you what to do next.

Now we have a look into the new options included in the Odoo Website module:

New Website Configurator:

Odoo 15 Website module brings a new artificial intelligence engine to configure entire websites based on your business and business preferences.

Background Images:

Odoo gives more flexibility for setting background images in its 15 edition. That means it allows you to avail extra tall or extra wide images as backgrounds.

Include Animations:

You can include animations to the text, images, and columns to improve user experiences. Introducing these animated shapes will give more acceptability and effectiveness to the website.

Boolean Toggle Widget:

Upgraded the clarity of the boolean toggle widget. With this option, you can quickly edit that field without going to the edit mode.

Building Blocks:

The building block section of the 15 Odoo Website module includes so many new templates. It will be very useful for designing your website in a more attractive and advanced way. Multiple templates are exclusively available for the Accordion, Masonry, Steps, and Products building blocks. You can also select a custom color for their link button. The platform also added a brand new building block to receive donations. Moreover, you can define conditional visibility.

Easily Share Coupons:

15 Odoo Website module introduced the chance to share all the available coupons through email, links, and social media.

Set up Default Form Value:

Odoo Website module allows you to define a default form value on form inputs.

Document:

The Odoo 15 Website module is more comfortable for quickly adding documents to the website. You are also permitted to select a suitable design for the customers or visitors to download.

You can easily change the assignee, priority, and state of a document with the assigned hotkeys.

Double-Indexing:

Avoided the double indexing of website home pages with multi-language options.

Advanced Keyboard Navigation:

Odoo Website module upgraded keyboard navigation within the dropdown menu. The command palette design and footer also improved. Now you can select multiple companies at once in the company switcher.

HTML:

Included advanced functionalities for you to include customized HTML codes in a building block.

Advanced Google Analytics integration:

In the Odoo 15 Website module, Odoo updated Google Analytics integration to serve Google's most recent updates.

Allows to build Forms:

The system included great support for users to build forms along with fields that are visible conditionally.

Exclusive Search option:

Updated Website Search bars for searching products, blogs, and other aspects. You can also quickly sort out the items for getting specific data or items through the search panel.

Improvements in displaying images:

Odoo 15 Website module introduced improvements for display image size; you can add more animated shapes into the images. Also raised a new progress bar for image upload.

Pie Charts:

The percentages are now displayed in Pie Chart forms in the reporting section.

Modern Themes:

Every theme in the module has a unique and more advanced appearance.

Quick Search:

Quick search option is accessible for selection fields

Customize Web page header:

You can easily customize the web page header with attractive new and advanced templates.

Video Building Blocks;

To make it possible to select a background video easily, Odoo included twelve suggested videos.

Advanced Website Logo:

In Odoo 15 Website module included a new default website logo.
So far, we discussed the features and the new updates in the Odoo 15 Website module, and now let us look into the Odoo Website module.
If you want to access the Website module, you should install the Odoo module to your database.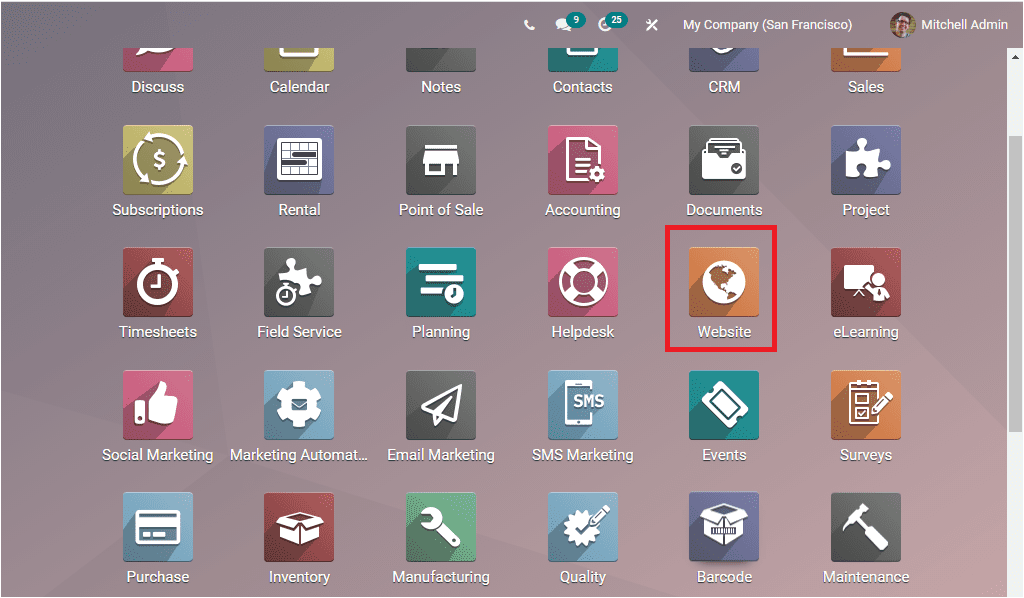 Now you can click on the Website icon to enter into the module. The home dashboard image of the module is depicted below.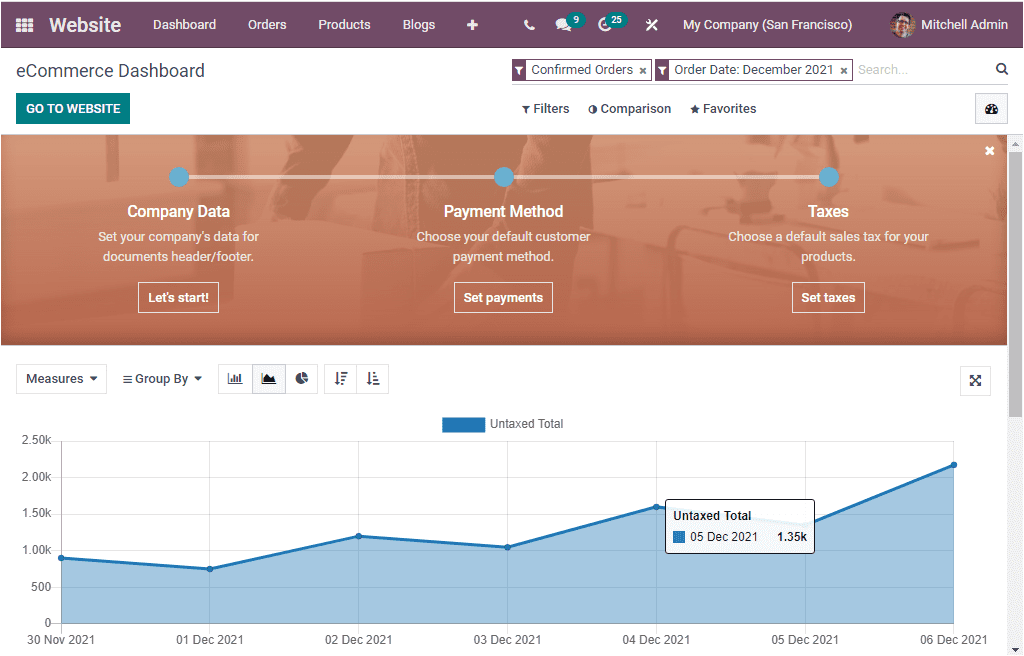 The home dashboard window of the Odoo Website module will depict the eCommerce dashboard as shown in the above image. (you should confirm that the eCommerce module is also installed in your system).
Views

1

Total Views

1

Members Views

0

Public Views
Actions

0

Likes

0

Dislikes

0

Comments