The Odoo Website module consists of a Reporting section that will allow you to analyse your online sales. Under the Reporting tab, you can view the Online Sales menu.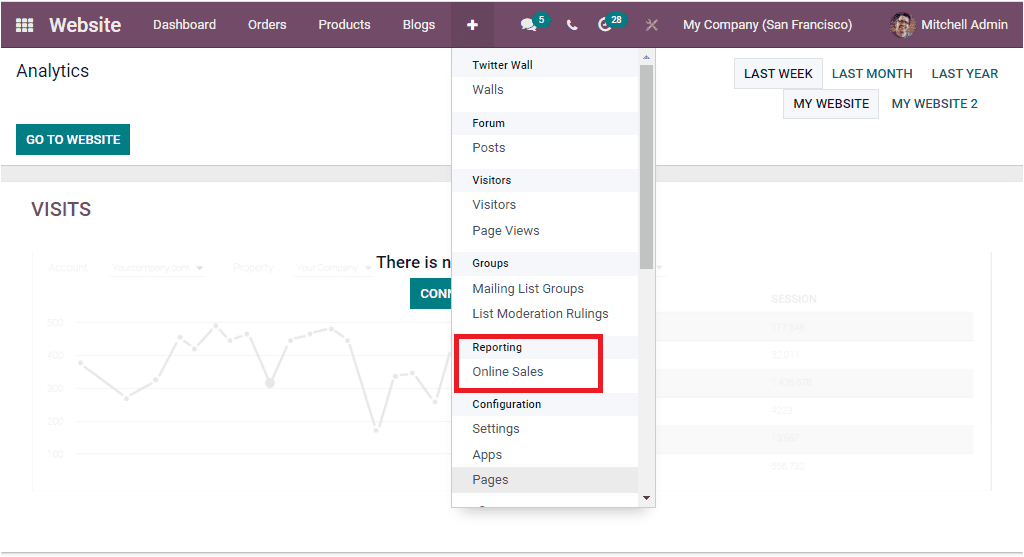 Upon selecting this menu, you can enter into the reporting section. The image of the Online Sales Analysis window is depicted below.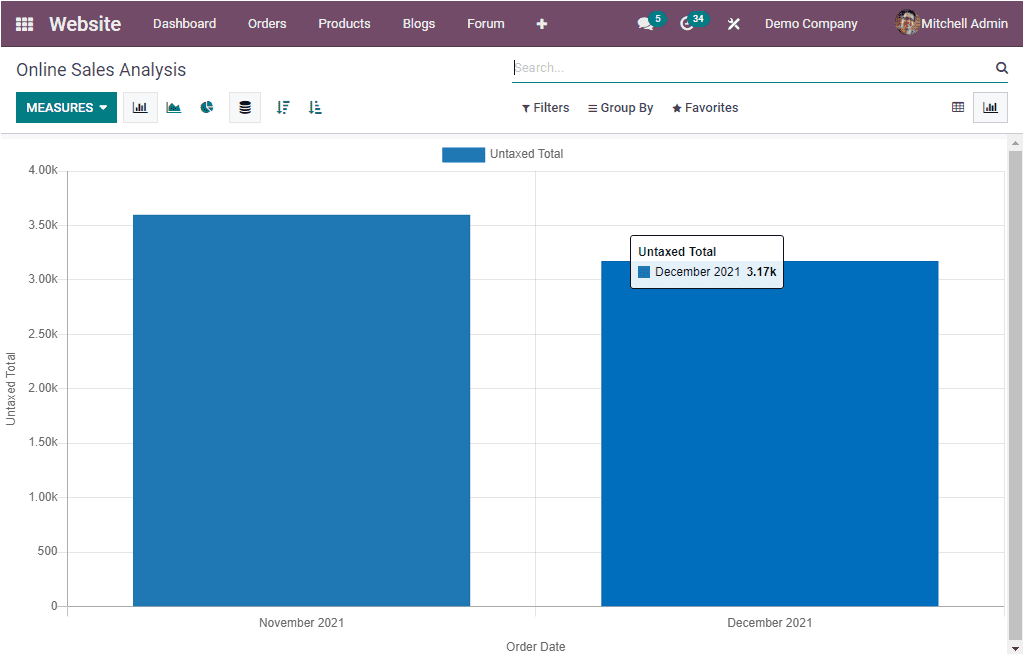 By viewing this window, you will get an overall idea of your eCommerce sales. Odoo allows you to generate reports in both Graph and Pivot views. In the Graph view( as depicted in the above image), you can generate reports in various measures such as # of Lines, Discount %, Discount Amount, Gross Weight, Qty Delivered, Quantity Invoiced, Qnt Ordered, Qty To Deliver, Qty To Invoice, Total, Untaxed Amount Invoiced, Untaxed Amount To Invoice, Untaxed Total, and Volume. You can view and access all these measures as mentioned above under the MEASURES tab.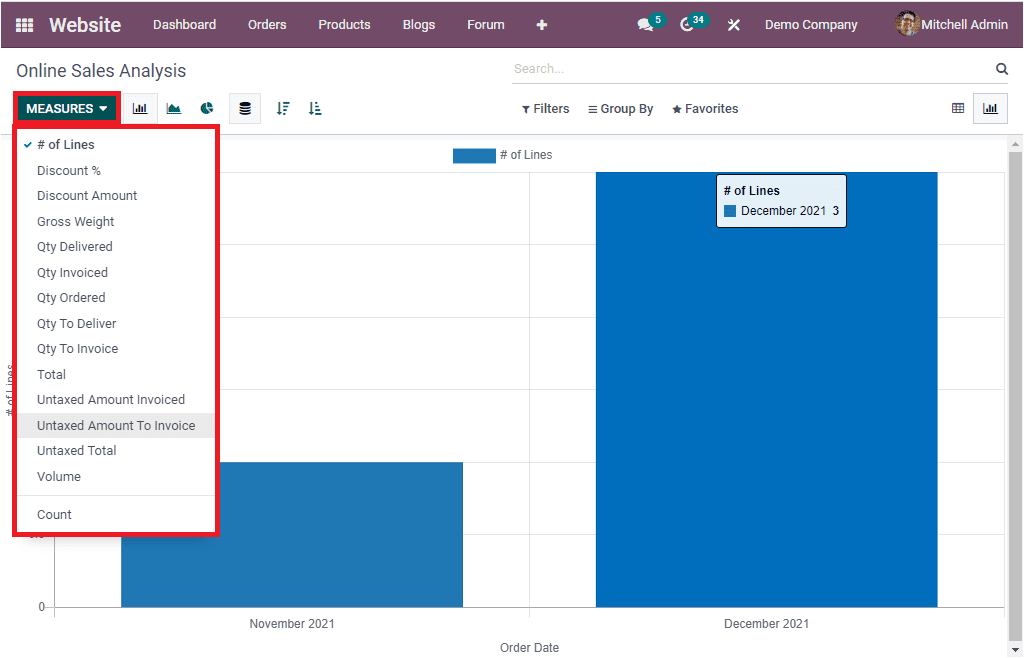 Moreover, the reports can be viewed in Bar Chart, Line Chart, Pie Chart, and Stacked formats. You can also arrange the reports in both ascending and descending order by clicking on the corresponding icons. The various sorting functionalities are also available in the window. The default Filters option available under the Filters tab are Confirmed Orders, Unpaid Orders, Abandoned Carts, and Order Date. You can also customize various filters based on your business requirements. To do so, you can select the Add Custom Filter option. Using these options, you can easily find out your records. The Group By menu includes the default group by options, and these options help you categorize your reports. Website, Product, Product Category, Customer, Customer Country, Status, and Order Date are the default Group By options available in the window. Here also you have the option to customize groups. Under the Favourites tab, you have two options: Save current search and Link menu in spreadsheet.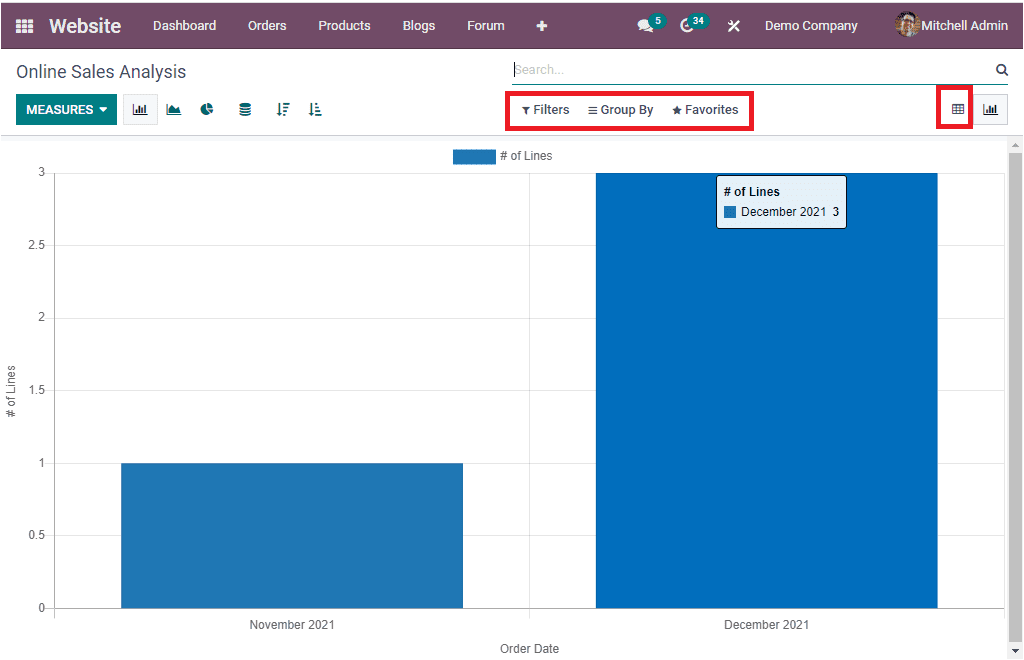 When you click on the Pivot menu icon available on the top left corner of the window, you can access the Pivot view of the Online Sales Analysis. The image of the window is depicted below.

In the Pivot view, the report will get in a tabular form. Here also you can generate reports in various measures. Similarly, you can apply multiple default and customizable options such as Filters, Group By, Favourite, and Search options. Moreover, the window offers the INSERT IN SPREADSHEET and the Flip axis, Expand All, and Download XLSX options as highlighted in the image below.

The Odoo Website and eCommerce module are the right tool to create, design, and manage your eCommerce website. This chapter will give you immense knowledge about the Odoo Website and eCommerce module and the various tools and features for smoothly handling various operations.
Views

0

Total Views

0

Members Views

0

Public Views
Actions

0

Likes

0

Dislikes

0

Comments